Landscapes are about people
let us help enhance your quality of life by providing the right landscape solution for you

We believe Landscapes are about People
The Green Acres Mission
Our mission is to provide an unequalled landscape solution and value to each client while always respecting and protecting the environment.
A lot of people struggle to find a professional landscape provider who gets their vision and can deliver exceptional results at a great value. Our company offers full landscape options—from custom outdoor installations to maintenance solutions—that are safe for kids, pets, and the planet. Because when you have a beautiful and functional outdoor space you can relax and enjoy the view whether you're inside or outside.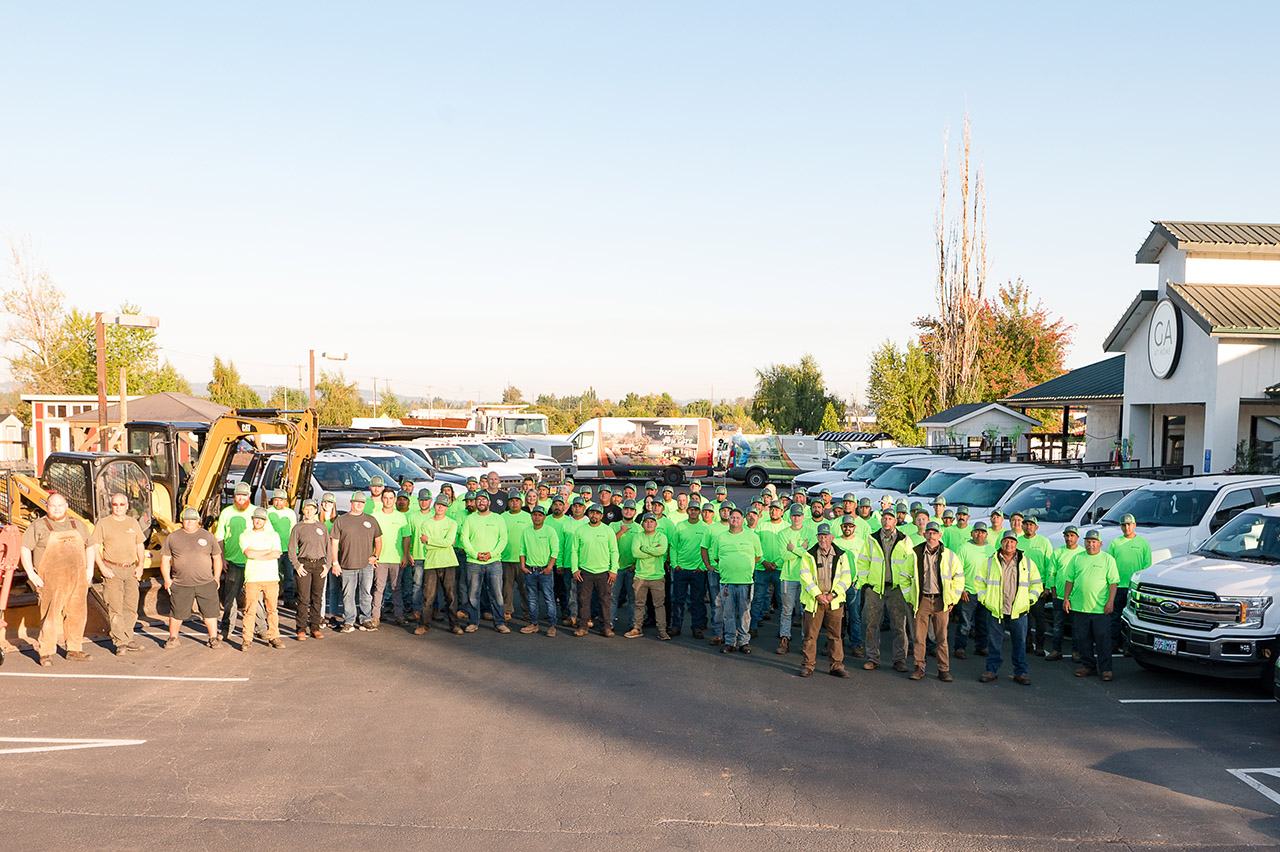 our history
Green Acres Landscape has been serving Oregon since 1992. We began as a landscape maintenance company with two employees, in Salem, Oregon.
Today, we are a full-service landscape company that supports over 100 employees and offers residential, commercial, municipal and industrial landscape solutions.

LCB CCB LICENSES,
BONDED, INSURED

HUNTER FX PREFERRED
CONTRACTOR

CONTINUING
EDUCATION

BELGARD PREFERRED
CONTRACTOR

RAIN BIRD SELECT
CONTRACTOR

PESTICIDE AND HERBICIDE
LICENSES

MUTUAL MATERIALS 
PREFERRED CONTRACTOR

QUAL-ICPI
CREDITED

EARTHWISE
CERTIFIED

100 BEST GREEN
WORKPLACE
1
a passion for landscaping
We find fulfillment in creating stunning and efficient landscapes and we approach every project with the mindset of an artisan.
2
to provide highest quality landscape service
We have exceptional standards and we are committed to provide the highest quality landscape services possible.
3
to make people's lives better
Outdoor spaces are important and they enhance our quality of life.
4
to ensure client happiness
Our clients are our most important partner in our business. We want to help them realize their unique landscape solution so that they can enjoy their outdoor space.
5
to exceed our clients' expectations
It is our goal to ensure that every client is completely satisfied with our work and that we exceed his or her expectations.
6
to provide value to our clients
We provide value to our clients by delivering landscape solutions that are well planned, have a competitive price, and exceed our clients' expectations.
7
safe and nurturing work environment
We are responsible for our employees and we respect them as individuals and realize their value.
8
commitment to quality
We are committed to providing the highest quality we possibly can. This is fulfilling to our employees and a promise to our clients.
9
strengthen our community
Remaining grounded and involved in our community is an important aspect of our company.
10
employ sensible environmental practices
We consider the environment important and want to protect it. We recycle, reduce our waste, and purchase green power. We are EarthWISE certified and are committed to sustainable practices.
11
building relationships with our suppliers
We consider our suppliers as partners helping us provide superior services to our clients. It is our goal to have honest and mutually supportive relationships with our suppliers and to see them succeed as well.
12
to employ honesty
We believe that honesty and integrity are paramount to an individual, as well as a business. These are requisite traits to achieving contentment and accomplishment.

7 Steps to a Successful Solution
A successful solution begins with listening and ends with delivering. Take a look at our Seven Steps to a successful solution:
A solution begins with a consultation, and that consultation begins with listening to you.

Plans may be simple or complex, depending on job requirements.

Present a formal proposal for your review. We wish to submit a proposal in person, however, if preferred, we will fax, email or mail a proposal.

Pledge to honor our promises with a written Landscape agreement.

Review the project solution and perform an on-site evaluation. A landscape professional and you will perform an on-site plan assessment to ensure everyone has an identical understanding of the solution.

Review the project solution and perform an on-site evaluation. A landscape professional and you will perform an on-site plan assessment to ensure everyone has an identical understanding of the solution.

Deliver a landscape solution that exceeds your expectations for artisanship, excellence and value.