Join us! We're hiring! 
¡Únete a nuestro equipo!  ¡Estamos contratando!  
Green Acres Landscape is currently hiring in both our landscape and maintenance divisions. Looking to start or continue your career in landscape? Our full-time positions include health benefits and paid sick leave. Candidates with a valid Oregon driver's license and a clean driving record are preferred. All are welcome to apply!
Apply online or fill out an application at our office, 5701 Gaffin Rd SE Salem 97317
¿Buscas comenzar o continuar tu carrera en mantenimiento o construcción? Green Acres Landscape actualmente está contratando en nuestras divisiones de mantenimiento y construcción. Nuestros puestos de tiempo completo incluyen beneficios de salud y horas de enfermedad. ¡Todos son bienvenidos a aplicar!
(Se prefieren candidatos con una licencia de conducir válida de Oregon y un historial de manejo limpio). 
Puestos disponibles: Trabajador de Mantenimiento, Líder de Equipo de Mantenimiento, Trabajador de Construcción Comercial, Supervisor de Construcción Comercial, Trabajador de Construcción Residencial, Supervisor de Construcción Residencial.
Solicite en línea o complete una solicitud en nuestra oficina, 5701 Gaffin Rd SE Salem 97317

We believe Landscapes are about People
The Green Acres Mission
Our mission is to provide an unequaled landscape solution and value to each client while always respecting and protecting the environment.
A lot of people struggle to find a professional landscape provider who gets their vision and can deliver exceptional results at a great value. Our company offers full landscape options—from custom outdoor installations to maintenance solutions—that are safe for kids, pets, and the planet. Because when you have a beautiful and functional outdoor space you can relax and enjoy the view whether you're inside or outside.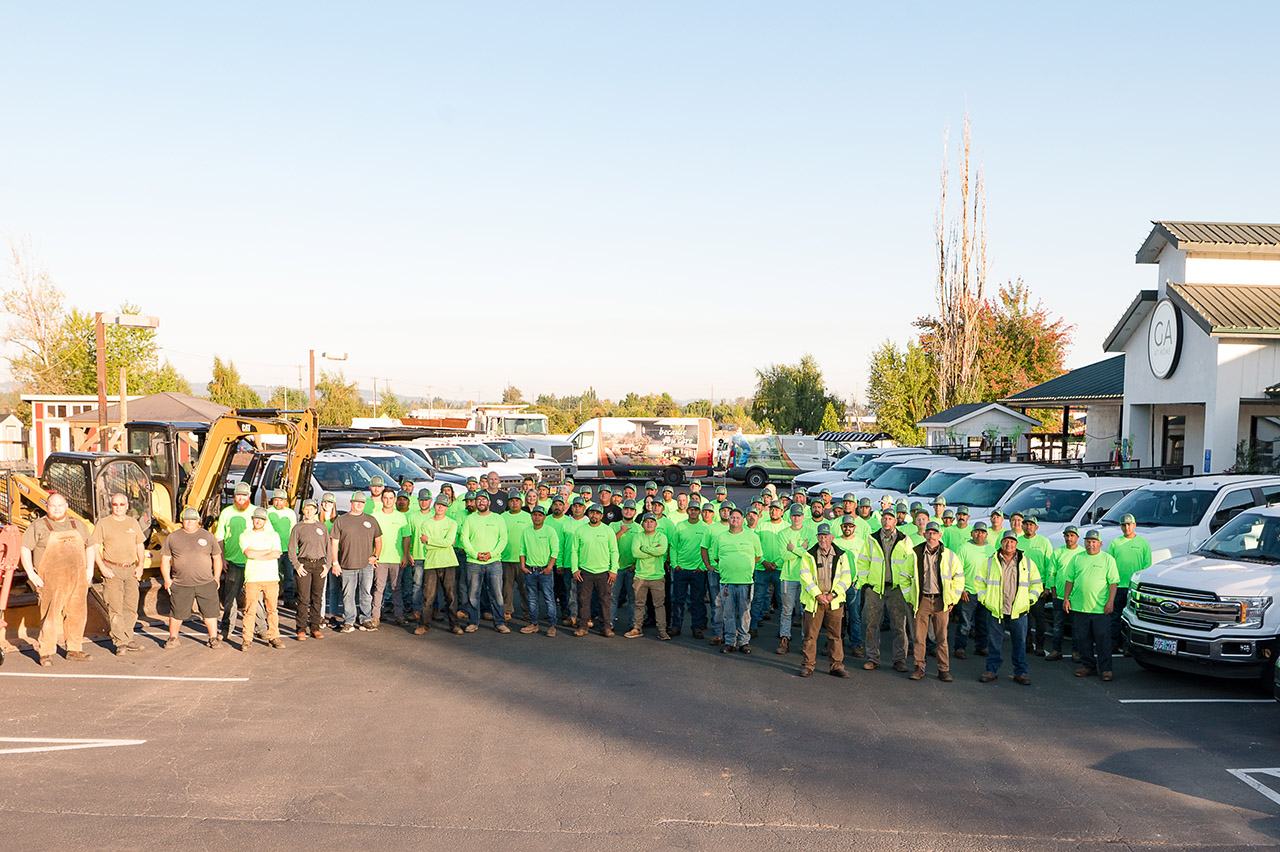 our history
Green Acres Landscape has been serving Oregon since 1992. We began as a landscape maintenance company with two employees, in Salem, Oregon.
Today, we are a full-service landscape company that supports over 100 employees and offers residential, commercial, municipal and industrial landscape solutions.

LCB CCB LICENSES,
BONDED, INSURED

HUNTER FX PREFERRED
CONTRACTOR

CONTINUING
EDUCATION

BELGARD PREFERRED
CONTRACTOR

RAIN BIRD SELECT
CONTRACTOR

PESTICIDE AND HERBICIDE
LICENSES

MUTUAL MATERIALS 
PREFERRED CONTRACTOR

QUAL-ICPI
CREDITED

EARTHWISE
CERTIFIED

100 BEST GREEN
WORKPLACE
1
Engagement
We actively engage every opportunity positively through listening, communication, and receptivity. This allows us to create a unique experience that forges a long-term relationship.
2
Relationships
We create sustainable relationships and trust by leading with professionalism, showing up on time, doing what we say we are going to do, and finishing what we start.
3
Experience
Since 1992, our commitment to develop, educate, and equip our team both professionally and personally has created a culture that delivers our exclusive experience.
4
Community
We take initiative to build lasting foundations for our future by infusing leadership, participation, strength, and diversity into our communities. Our team actively practices and maintains the objective of continually leaving the world a better place, because we care.